It's that time of year for me to revamp and go through my equine emergency kit items! I usually like to do this once or twice year just to make sure I am all stocked up and ready to go for the next emergency, because let's face it, with horses there is always something. Right now, since it's hotter than an oven, I don't ride much, so it's a good time to sit inside and go through everything.
               SmartPak does sell premade emergency kits, which are fantastic! They are a great place to start if you are just starting out with horses, or if you just don't have time to piece together one. The kits do range in price, so depending on how many horses you have and how comprehensive of a kit you would like, there is one for all budgets. The most affordable option is the First Aid Kit-Basic (Item #11775). This is priced at $86.95 and includes 34 different items. It includes everything from antibiotic wipes, to ointment, to gauze and even a flashlight! The next level up from that would be the Complete Barn Emergency Kit (Item #11779). This kit includes 73 different products that would be ideal for almost any situation! It also comes in a really handy 3 compartment bag for easy storage and "grab-and-go" accessibility. This one is a bit pricier at just under $200, but definitely worth it for all that it includes!
               For me personally, I have collected so many different bits and pieces of things over the years that I have basically created my own emergency kit. Most of the items from these premade kits are in my emergency kit as well, but I have also included a few others I've found useful. Some of the more basic things to have are items like bandages, fresh vetrap, tape, syringes, and alcohol wipes. I've included a list of some of the things I have below. If you're looking to beef up or start your own kit, hopefully this will help you as well!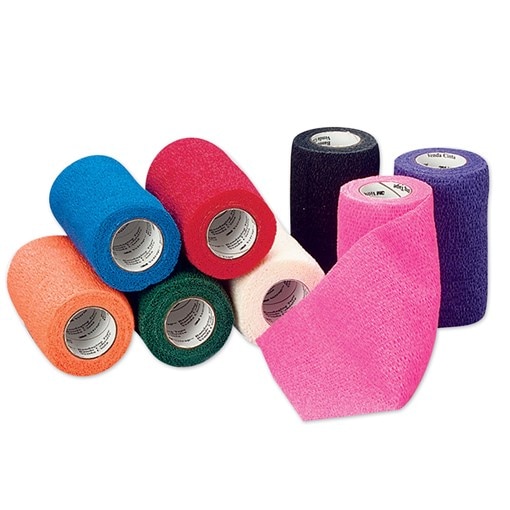 AluShield Aerosol Bandage (item #20749)

Even though it is silver color, it is gold in terms of usefulness! This is amazing for those wounds that you're not able to wrap and also protects from the environment.

Wonder Dust (item #10223)

This stops bleeding fast! Sometimes the smallest cuts are the most oozy so this will definitely help those cases.
This isn't an exhaustive list of items, but just some of the important things I like to keep laying around. Depending on your horse's situation and needs you can tailor your emergency kit to the things you may need more frequently. Also don't forget to include human emergency kits items! I know we mostly think about our horses, but it is important to keep things like band aids and Advil around too. Other emergency kit items to keep around would be snacks and water! You never know when you may need a snack! 😊